CAFKA.09
VERACITY
The Contemporary Art Forum Kitchener & Area is pleased to present from September 18 through October 4, 2009, Veracity, CAFKA's 7th exhibition of contemporary visual art in public spaces.  With our exhibiting partners Cambridge Galleries, Canadian Clay and Glass Gallery, Critical Media Lab, Homer Watson House & Gallery, IMPACT Theatre festival and the Kitchener Waterloo Art Gallery, twenty-six contemporary artists install, perform and exhibit art that occupies and energizes the public (and gallery) spaces of the region.  To complement the exhibition program, CAFKA has organized a series of artist talks, exhibition tours and educational workshops for adults and students.
"Veracity" means truth and the question of truth in our increasingly digitally decentred world is something that keeps nagging at us.  What is real: The streaming images that cross the screens of our televisions, computers and smart phones?  The relationships and the identities we create on-line?  The images and icons of strength, beauty and justice that populate our contemporary pop cultural pantheon?  CAFKA invited artists to respond to the concept of Veracity in their methods and in their subjects.  We hope you will consider and respond to what they have created.
Veracity is, with the Impact Theatre Festival and Open Ears Festival of Music and Sound, part of 2009 Year of Art Festivals in Waterloo Region.  CAFKA is a partner in the Waterloo Region: Arts Together: Creative Intersections initiative.  We are grateful for the generous support of Christie Digital, our lead corporate sponsor and the facilitator for all of our digital projection needs.  We are grateful to the Musagetes Foundation, which has been a key long term supporter of CAFKA.  We are proud and thankful for the constant support shown by the City of Kitchener, which has helped us grow through the provision of exhibition spaces, advice, encouragement and support.  We are very pleased to have the support of the Ontario Trillium Foundation which has supported CAFKA's establishment and incorporation and which has recently committed to supporting CAFKA's development for the next three years.  CAFKA also wants to thank the Ontario Cultural Attractions Fund, the Kitchener Waterloo Community Foundation, the Ontario Arts Council, the Canada Council for the Arts, the Region of Waterloo Arts Fund and the City of Waterloo for the support which they have provided for Veracity.
Finally, CAFKA is only possible because of its volunteers, people who contribute hundreds of unpaid hours toward every aspect of the organization of the CAFKA's events.  Without them CAFKA would not be possible.  Thank you.
01. David Atkinson & James Nye (Kitchener, ON) - Obstruction Fence
Obstruction Fence asks the question' "What's behind that construction hoarding?" and offers surprising answers. 
Kitchener-based artists David Atkinson & James Nye worked with a construction hoarding on King Street, embedding within it a series of small knot-sized peepholes opening to painted, collaged and assemblaged dioramas and toy theatres, revealing various alternate realities in the otherwise presumably empty space. During and after the exhibition Atkinson and Nye continued to add to the hoarding.  For another six months after Veracity had closed, Obstruction Fence provided passing pedestrians with pleasant epiphanies until it finally came down the following spring as part of the King Street renewal.  
02. David Diviney (Halifax, NS) - Lodge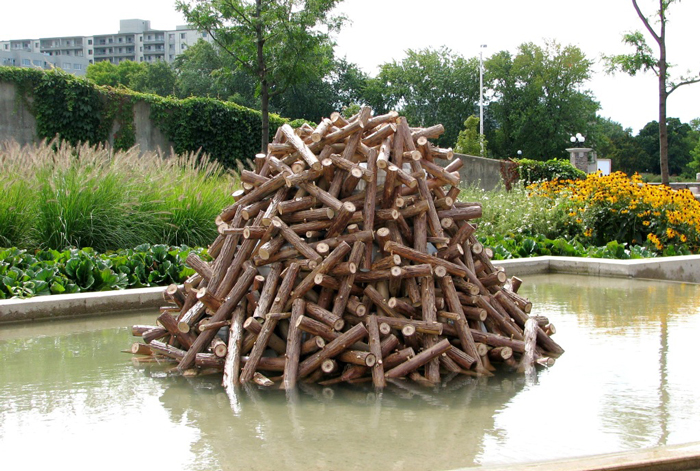 Lodge is a stylized representation of a beaver lodge in the reflecting pool in the fountain at the Grand River Transit bus station. David Diviney is interested in the idea of the rural as a point of transition between the manmade and natural worlds, where it meets popular culture as well as personal and shared histories. His most recent work looks to a pastoral vernacular of folklore, pioneer tales, foundational myths, outsider art forms and do-it-yourself aesthetics. This work has been made possible with the support of the British Columbia Arts Council.
03. Graffiti Research Lab: James Powderly and Evan Roth (USA) - Eye Writer
The Graffiti Research Lab's motto is' "Dedicated to outfitting graffiti artists with open source technologies for urban communication." Eye Writer is the next generation of their Laser Tag system, which first gained them international notoriety. Using an eyetracking interface, the user is able to write or draw on a building's surface simply by looking at it. Eye Writer was first developed as a tool to allow the legendary L.A. graffiti artist Tempt, who has been paralyzed by ALS, to continue tagging. This project has been made possible for Veracity with the support of the Region of Waterloo Arts Fund, the Kitchener-Waterloo Community Foundation and Christie Digital.