CAFKA.07
HAPTIC
Our physical connection to objects and spaces is essential to our being in the world: in the environments we inhabit, in the ways we relate to one another, and in the products we create. From the distinctive craftsmanship of the Waterloo Region's German and Mennonite founders to the region's current role in shaping the technological future we see a consistent understanding of the importance of haptic relationships from the outstanding design and use of materials in early furniture to the engineering prowess and innovation in our high-tech and research sector.  This local context gives us a unique perspective from which to investigate the interplay of science, technology and artistic vision in the formation and understanding of our connections to places and things.
For CAFKA.07: Haptic we asked artists to consider actual or metaphorical possibilities enabled by the haptic connection, whether achieved through exceptional handling of traditional materials or of new media. Artists were invited to consider how contemporary art practice, with its emphasis on the new, co-exists with and incorporates the skills, techniques and values of the past: to explore haptic relationships, or how contemporary art practice places into question the Cartesian duality of mind and body.
Michael Pinsky - Life Pulse
Life Pulse—Participants will put their hands on either side of any of the light columns and will wait until the column announces that their pulse has been read. The column will announce their pulse rate and will broadcast this rate from the light. This pulse rate will be maintained until a new pulse rate is read.
Michael Pinsky (UK) takes the combined roles of urban planner, activist, researcher, resident and artist, using the mediums of video, performance, mapping and programming.
Nicholas Dumit Estevez & Maria Alos - The Passerby Museum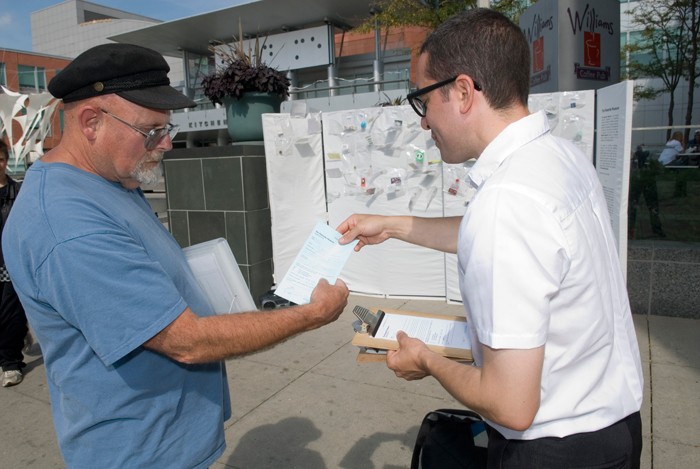 The Passerby Museum is an itinerant institution dedicated to presenting temporary exhibitions in different cities around the globe. This nomadic organization draws its collection from donations from the people who visit, work or live in the area where it is in operation at any given time, serving as a physical marker that records the presence of its collaborators through the objects donated.
Nicolas Dumit Estevez participated in CAFKA.05: X Industria with his project Help Offered.
Nicolas Stedman & Kerry Segal - The Blanket Project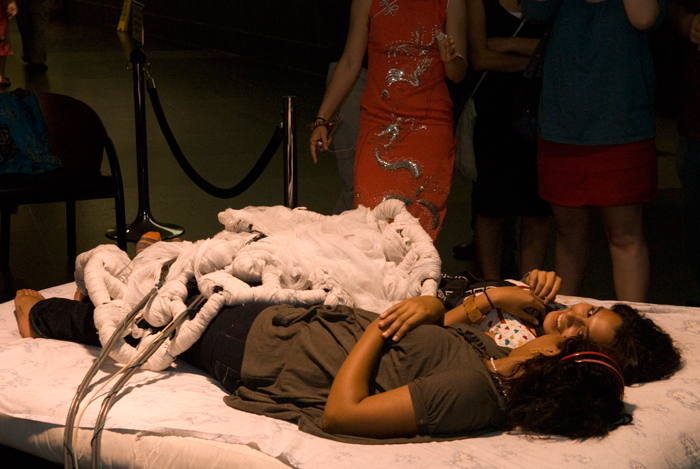 The Blanket Project is an ongoing effort to create a fully autonomous robotic blanket, able to navigate through a bedroom or similar environment seeking out people for intimate encounters. The blanket is intended to be a subtle companion, not demanding much attention, rather quietly nestling its way into one's personal space to provide comfort and physical stimulation, especially when a person is in need.