CAFKA.07
HAPTIC
Our physical connection to objects and spaces is essential to our being in the world: in the environments we inhabit, in the ways we relate to one another, and in the products we create. From the distinctive craftsmanship of the Waterloo Region's German and Mennonite founders to the region's current role in shaping the technological future we see a consistent understanding of the importance of haptic relationships from the outstanding design and use of materials in early furniture to the engineering prowess and innovation in our high-tech and research sector.  This local context gives us a unique perspective from which to investigate the interplay of science, technology and artistic vision in the formation and understanding of our connections to places and things.
For CAFKA.07: Haptic we asked artists to consider actual or metaphorical possibilities enabled by the haptic connection, whether achieved through exceptional handling of traditional materials or of new media. Artists were invited to consider how contemporary art practice, with its emphasis on the new, co-exists with and incorporates the skills, techniques and values of the past: to explore haptic relationships, or how contemporary art practice places into question the Cartesian duality of mind and body.
Diane Borsato - Neighbourhood
Inspired by a site tour of the University of Waterloo School of Architecture, Neighbourhood featured a scale model reconstruction of the artist's Toronto home along with a selection of related ephemera that suggests a virtual neigbourhood.  
Diane Borsato is a visual artist working in performance, intervention, video, installation, and photography. She has exhibited nationally and internationally with solo exhibitions and performances at galleries and museums including La Centrale, Skol, and Occurrence (Montreal), Gallery TPW  and the Museum of Contemporary Canadian Art (MOCCA) (Toronto), eyelevel (Halifax), TRUCK (Calgary), Saw Gallery (Ottawa), Artspeak (Vancouver), and a residency at Villa Arson, National Centre for Contemporary Art in Nice, France.  Diane participated in CAFKA.04: Peace of Mind with her photo installation Affectionate Experiences.
Doug Buis - Touch Therapy: Form & Consciouness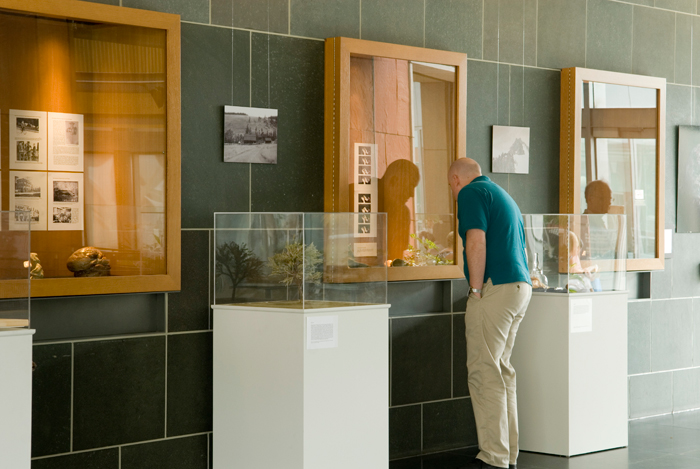 Touch Therapy: Form and Consciousness is based on an old exploration into psychotherapy by Dr. Verner Ferlein. Dr. Ferlein surmised that touching various forms and textures in proscribed ways had a therapeutic effect on certain conditions. The entire project is fictional, but is based on scientific writing and modes of presentation employed in small natural history museums.
Edmund Law - Automated Bubble Popper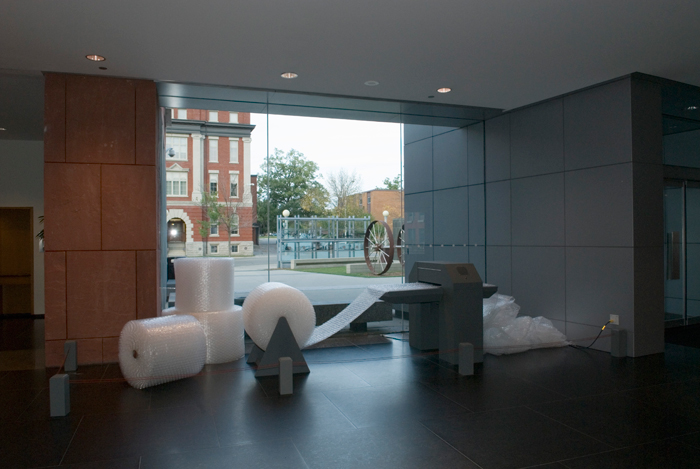 Automated Bubble Wrap Popper—This kinetic sculpture, resembling a production-line factory machine, consists of a large roll of bubble wrap being fed slowly into a console where it is popped by a concealed mechanism. Being audience to this comically subersive automated device subtly interrupts our physical connection with the world and substitutes a small pleasure with a small frustration.