CAFKA.02
Power to the People
The thematic title Power to the People was chosen to recognize the 100th anniversary of the inception, in Kitchener, of one of the largest publicly owned utilities in the world. The phrase encouraged artists either to make works that responded directly to this history, to take up its democratic connotations, or to simply view public artistic activity as an act of empowerment in itself.
On September 21st, Kitchener welcomed 20 artists from across Canada, the United Kingdom, United States, and Mexico. Accompanying their fascinating projects was a program of video works including titles from Canada, France, and Germany. Round Table Discussions featured an impressive roster of museum, arts, and academic professionals who debated issues related to artists and activism, censorship, and the artist/curator hybrid.
The organizers hope that this event helped increase the public for visual art in the spirit of what was once a civic motto: "Public enterprise started here."
Robert Marbury - Urban Beasts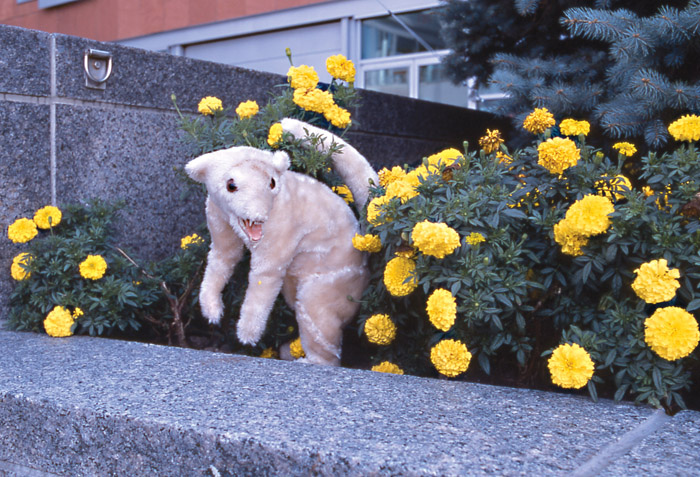 I am pleased to present a selection of my Urban Beast collection. This Anthology of Urban Beasts strives to tell the stories of unique beasts that have existed in and around our cities without the slightest notice of science, history or, for that matter, the general public. Fact and fable weave together to create an unbelievable truth about the sad fates of these Urban Beasts and the world in which they lived. For the first time outside of my permanent collection, these Beasts will be presented in life-like settings around the Kitchener City Hall.
Robert Marbury has traveled, studied Anthropology, Film, Photography and several languages; all of which have added to a fluid story, which allows him to express the world as he sees it. Recently, the Aljira Contemporary Arts Gallery in Newark, New Jersey selected him for their Emerge2002 Program.
Simon Frank - Concrete Poetry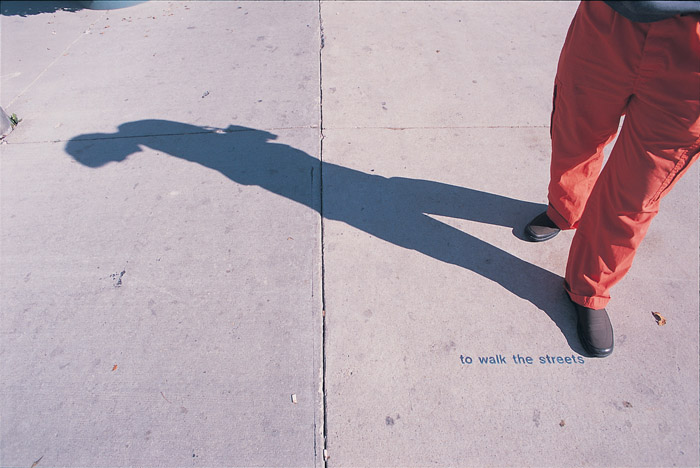 A poem is spread out along the streets of downtown Kitchener - with each line of the poem painted on the sidewalk and connected to the next by blue arrows. The arrows map out a trail through Kitchener's urban "wilderness", beginning and ending at City Hall, with the text acting as a reminder of the ways in which the natural world has been transformed into our "man-made" world. People can only experience CONCRETE POETRY by walking. It makes urban walking a more conscious act, drawing a person's thoughts and steps into unison - inviting people to participate in the work and to become producers rather than consumers of meaning.
Simon Frank is an artist, a poet, and a rustic-furniture maker. He was born in Glasgow, Scotland, and now lives and works in Hamilton, ON.