CAFKA.02
Power to the People
The thematic title Power to the People was chosen to recognize the 100th anniversary of the inception, in Kitchener, of one of the largest publicly owned utilities in the world. The phrase encouraged artists either to make works that responded directly to this history, to take up its democratic connotations, or to simply view public artistic activity as an act of empowerment in itself.
On September 21st, Kitchener welcomed 20 artists from across Canada, the United Kingdom, United States, and Mexico. Accompanying their fascinating projects was a program of video works including titles from Canada, France, and Germany. Round Table Discussions featured an impressive roster of museum, arts, and academic professionals who debated issues related to artists and activism, censorship, and the artist/curator hybrid.
The organizers hope that this event helped increase the public for visual art in the spirit of what was once a civic motto: "Public enterprise started here."
David Cheung - Power to the First People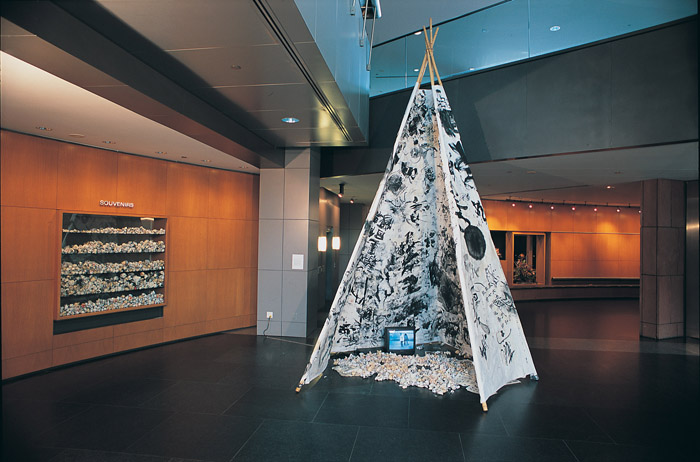 Through the installation of a tepee that is 18-20ft in height constructed by bamboo and rice paper, David Cheung pays tribute to the First Nation and Chinese people whom were deprived of their rights to vote under the 1872 British Columbia Qualifications of Voters Act. He will also perform a symbolic Buddhist ritual by destroying about 5,000 artworks on rice paper crumpled in ball-shape and the tepee to commemorate the Chinese collies whom had died during the construction of the western section of the Canadian Pacific Railway. Audiences are also invited to interact with the art piece during the exhibition.
David Cheung's work often involves audiences and public as active participants. He had initiated the Arti-Smoking project which uses creative methods to enhance public awareness of the epidemic magnitude of deaths from tobacco uses (over 4,000,000 a year globally), as well as gathering public supports to fight the problem.
Dianne Bos - Galaxy Series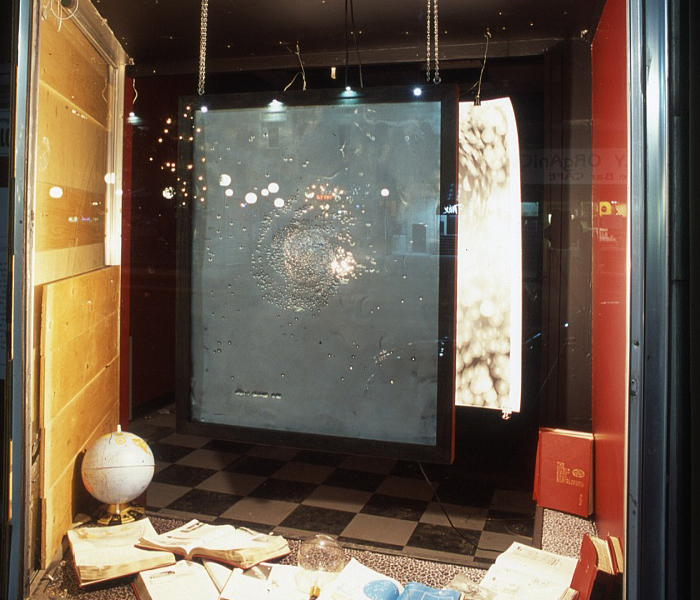 The recent exploration of the furthest reaches of space by the Hubble telescope are fascinating and humbling. I couldn't access that technology so I had to invent my own pinhole camera that could recreate what the source of distant light might be. Each exposure is of only one light source, whether that is a light bulb, candle or television set. Through the properties of light and the pinhole, a galaxy of images are created. When these objects are presented as the possible source of star light they become a humorous metaphor for our own religious and/or scientific beliefs. Images for a new folk cosmology mythologizing the nature of light itself.
Dianne Bos' photographic work has been exhibited and collected internationally as well as appearing in magazines, books and on CD covers. She is actively involved in teaching photography, gallery education and freelance curatorial work with a focus on 'low tech' photography and artists' garden projects.
Dutton, Peacock & Swindells - Untitled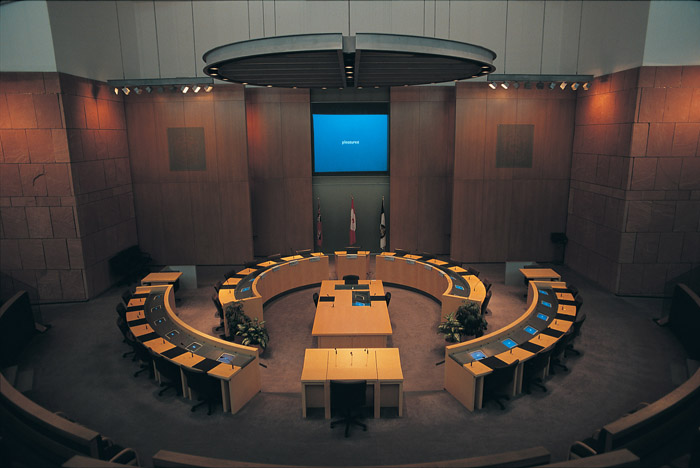 Dutton, Peacock and Swindells' work touches on a number of themes and there are no particular restrictions on media. Currently however, much of their most recent work has involved the use of large scale (and often inverted or revolving) photographs, subtitled videos and large wall texts. Their work is very much process based and often evolves from a central motif or image. Such motifs have included a magnolia flower, a volcano, a quarry and an abandoned village in Turkey, yet these motifs are never represented directly. Instead, the motifs are used as poetic devices around which the artists construct and mediate photographs, videos, texts and objects into formations, which, in the words of Gary Michael Dault of the Toronto Globe and Mail, are "inexplicably compelling"
Steve Dutton and Percy Peacock began collaborating on projects in 1996 having already exhibited individually at a national and international level. Their collaborative work includes exhibitions at the Museum of Installation in London, UK, Optica in Montreal and Site Gallery, Sheffield U.K. In 1998 they were recipients of a major Photo 98 award which resulted in a publication and exhibition entitled Vesuvius in which they first collaborated with Steve Swindells. The three-way collaboration then worked on projects which included Kayakoy at Pekao Gallery, Toronto in September/October 2000 and most recently Entropic Gym at Mercer Union in April 2002.